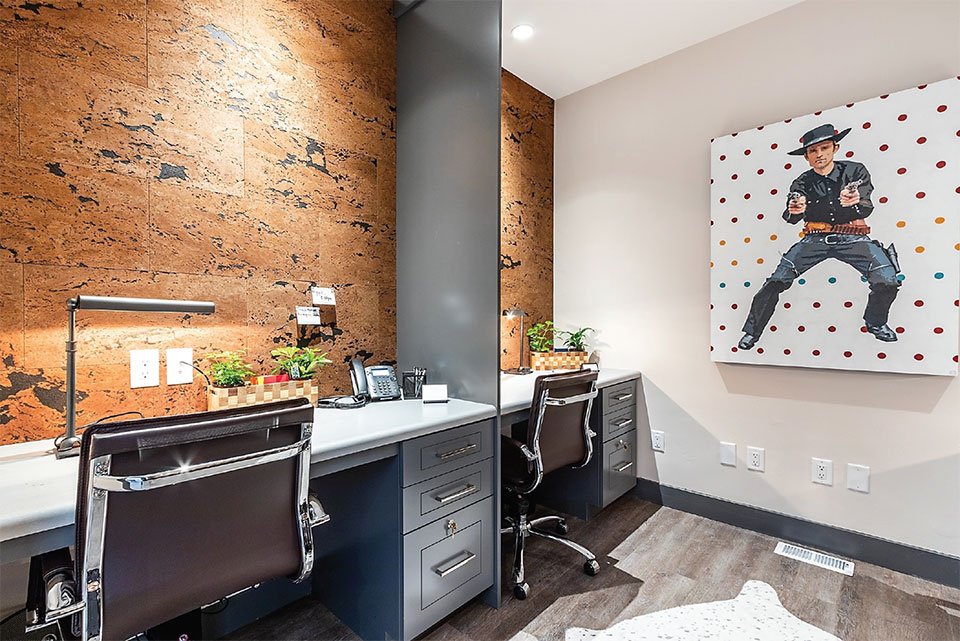 WHJ: Embracing Fine Office Art
Western Home Journal
Summer 2020 Edition
The Prospect Executive Suites connects life & creativity to the business & art communities
When Kelly Pfaff and David James collaborated on the idea of building an Executive Office space in Park City, their vision was to create a work environment that was not only unique and inspiring to the discerning eye, but also appealing and supportive of the mountain lifestyle.
Through their due diligence, they determined that there was a demand in the marketplace for fully furnished private office suites and, much to the delight of second homeowners, entrepreneurs, small businesses, and larger companies looking to establish themselves in Park City, Kelly and David's concept quickly came to fruition.
"We're a very unique workplace and when you add in the fine art—you realize how much it lifts the productivity and energy in our space." — Kelly Pfaff, The Prospect Executive Suites
Kelly and David bring a lifetime of experience from marketing and real estate investing as well as general contracting to The Prospect Executive Suites. From their own attraction to a mountain town lifestyle and an appreciation for the balance of work and play, they created The Prospect Executive Suites as the ultimate work environment filled with distinct mountain modern finishes, full-service conference room, kitchen with complimentary tea, coffee, filtered water, snacks, copy center, convenient underground parking, and amenities such as lockers and showers to support the outdoor enthusiast. It's also in an easily and readily accessible location in downtown Park City, close to popular restaurants and miles of hiking trails and singletrack mountain biking, not to mention an abundance of world-class ski resorts and backcountry access. This accommodates every important detail for the successful professional to do their business and hit the trails running or take on a powder day in the Wasatch range.
Yet The Prospect is more than just an incredible office space, it is also an opportunity to collaborate with the local art community and bring fine art into the space to create "pop-up" exhibitions. With the assistance of curator Pamela Beverly-Quigley, the common area walls at The Prospect became blank canvases carefully considered and decorated to include original works of art by regional and local artists. "The opportunity for me to work with Kelly and David was a natural fit," says Pamela.
As a curator, artist, and active participant in the Park City arts community and a board member of the Park City Summit Arts Council, Pamela activated the space as a marketing opportunity to bring in people and invite art collectors who live in Park City and Summit County to connect in this collaborative environment.